We're often asked "How much is it going to cost to scan it all?" and it's never easy giving a figure that is reasonably accurate.
The usual method we employ is to simply multiply the number of archive boxes by the average number of image we would expect to create from each box.  Although fairly good, this method is riddled with unknowns such as how full has the box been filled, or how much of the paperwork is printed double sided – and these are questions that largely remain unanswered until the scanning commences.  As such the exact cost of a scanning project is sometimes unknown until it's finished – until now!
Recognising that many Practice Managers would prefer a known cost before a project is started, we have now introduced a fixed flat rate charge per patient record.  This price includes all document preparation, index creation, scanning in full colour, output as fully searchable PDF files and secure destruction of the scanned records.  So regardless of whether you've got 50, 200 or 10,000 records to scan – we can tell you exactly how much it's going to cost before you start – even if they look like this!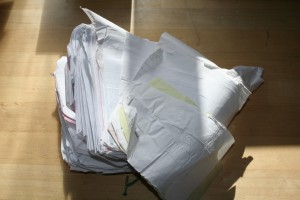 For more details and your own 'per record' price please contact us.